Above is picture of inspiration!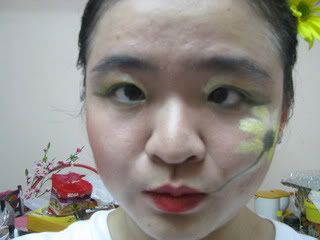 What I used to get this looked?
The palette is called Australis and black dots are the eyeshadows

Smaller palette is called ORma Germany and black dot is the eyeshadows

Silky Girl lipliner 03 Rose
Lipstick Sariayu Gold- Vermillion kiss
Lipstick Rimmel London-Rich Raisin
Perfect coverage twins concealer
Silky Girl Funky Eyelights Pencil 01 Olive Green
Clinique derma white as makeup primer

As beginner in makeup I am taking part in
Flower Power Contest
. Denise is having this contest at her
labels and love
blog.
RULES:
1.) You must be a follower in my blog
2.) Post a picture of your inspiration and the actual look. (A full face and a close up)
3.) List all the products that was used.
4.) The post has to be a new post, you can't repost any old pictures from your blog.
5.) You need to post my giveaway in your blog including the link to this post.
6.) Write in the comment portion the link to where you have reposted my contest.
7.) If you win you must give me an email address where I can contact you.
- This contest is open to anyone in the world.
-Contest will end on July 25, 2009
the goodies!
-Sonia Kashuk Blending Sponge
-OPI BRIGHT PAIR mini pack
colors: A Grape Fit!, Shorts Story, On the Same Paige and RapiDry Top Coat
-Red Cherry Lashes #20, #28
-Mac Pink Pearl sample pigment
-Italian Badger small handle blush brush (comparable to Mac SH 129)
-Forever 21 flower headband & earing
Don't just read here go ahead and take part now.